Attention of usage
Lubricant spray
Please make sure release agent is sprayed to the position shows below for 0.5sec.
This action can help preventing clogged valve and prolong lifespan of usage.
Spray position of movable side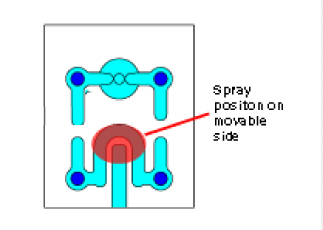 Spray position of fixed side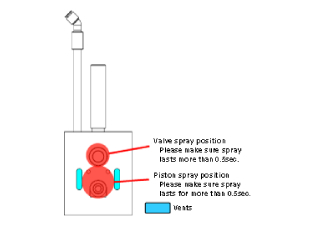 Valve installment to mold
Please make sure fixed and movable side of vacuum valve is higher than core mold about 0.03~0.08mm.
Please refer to installation drawing of vacuum valve before mold production.
Please use bolts to fix A side to mold tightly.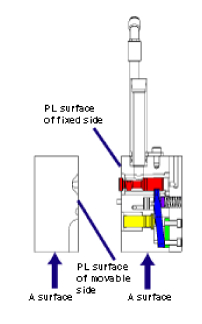 Lubricant of sliding part
After dismantlement of vacuum valve, please make sure lubricant is sprayed on the valve・valve bush・piston・piston bush. This maintenance can decrease trouble of sliding part.
Our company recommends this lubricant for maintenance.
Advice of regular maintenance
We recommend vacuum valve maintenance is made after every 48 hours usage.
Maintenance ensures stable action and prolongs lifespan of usage.
If the newest maintenance manual of vacuum valve is necessary, please send us mail.
E-Mail : die-eg@die-eg.com
Our company provides free regular maintenance, please check homepage of maintenance in detail.